UM-Bridge Workshop 2023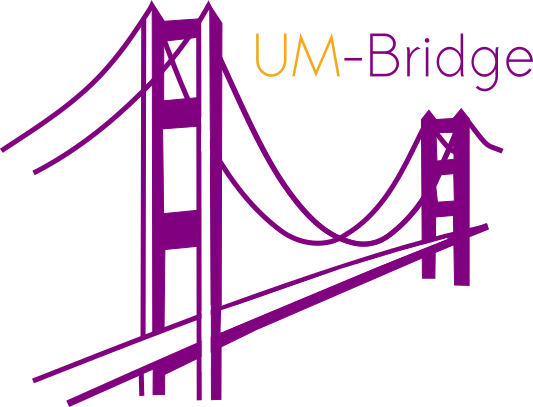 UM-Bridge is a language-agnostic interface linking Uncertainty Quantification (UQ) packages and numerical model software. It allows
Speeding up UQ projects from prototype to HPC
Making UQ and model software available to a wide audience
Reproducible, community-driven UQ benchmarking
For more information, see UM-Bridge documentation.
This workshop has the following goals:
Get users familiar with UM-Bridge
Initiate collaborations between UQ and model experts
Advance the UQ software ecosystem
Organizers
Time and Location
The workshop will be held online and span two days:
Monday, December 11, 11:00 - 18:00 CET
Tuesday, December 12, 11:00 - 18:00 CET
For American time zones, we offer additional late sessions
We will use gather.town as our online platform.
Registration
Registration is available through the registration form until December 1st.
Prerequisites
For practical exercises, you will need working installations of
Schedule
All times in CET (GMT+1).
Italic: Invited talks related to UM-Bridge.
Monday, 11. December 2023
| Time | Session |
| --- | --- |
| 11:00 | Welcome |
| 11:10 | Katherine Rosenfeld (Gates Foundation): UQ in disease models |
| 11:30 | Delphine Sinoquet (IFP Energies nouvelles): Lagun - User friendly UQ framework |
| 11:50 | Lunch break |
| 13:00 | Linus Seelinger (KIT Karlsruhe): Introduction to UM-Bridge |
| 13:40 | Practical: UM-Bridge basics / Participants' projects |
| 14:40 | Brief introductions of participants |
| 15:00 | Sergey Dolgov (Bath uni.): Tensor Train Toolbox |
| 15:20 | Dave Ponting (OpenGoSim): Coupling Pflotran-OGS reservoir simulator to applications |
| 15:40 | Coffee break |
| 16:00 | Anne Reinarz (Durham uni.): Intro containers, containerized UM-Bridge models/benchmarks |
| 16:40 | Practical: Containerized models / Participants' projects |
| 18:00 |   |
|   |   |
| 20:00 | Late session: Practical, participants' projects (primarily for western time zones) |
Tuesday, 12. December 2023
| Time | Session |
| --- | --- |
| 11:00 | Niklas Baumgarten (KIT Karlsruhe): UM++ Bridge - Accessing Models and Methods from FEM Software M++ via UM-Bridge |
| 11:20 | Thomas Schillinger (Mannheim uni.): UQ in traffic models |
| 11:40 | Sebastian Krumscheid (KIT Karlsruhe) |
| 12:00 | Lunch break |
| 13:00 | Cristian Mezzanotte (Google): Cloud platforms, HPC on kubernetes |
| 13:30 | Linus Seelinger (KIT Karlsruhe): Cloud-based HPC for UM-Bridge models |
| 14:00 | Practical: UM-Bridge cloud + HPC / Participants' projects |
| 15:00 | Coffee break |
| 15:20 | Mikkel Lykkegaard (digiLab Solutions): Multilevel Delayed Acceptance, UM-Bridge at digiLab |
| 15:40 | Kolhaas, Rebecca (Stuttgart uni.): Bayesvalidrox - Surrogate-assisted Bayesian Validation of computational models |
| 16:00 | Discussion groups |
| 16:30 | Wrap-up |
| 16:40 | Practical: Participants' projects |
| 18:00 |   |
|   |   |
| 20:00 | Late session: Practical, participants' projects (primarily for western time zones) |